BEVEL STAR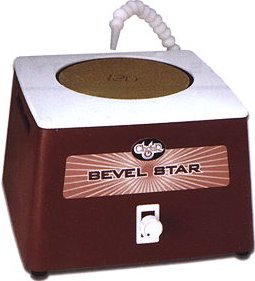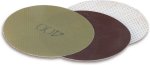 The Glastar Bevel Star is a Special Order item.
When you click the "Add to Cart" button, we will special order the machine for you. Allow 10-14 days for delivery. Price includes free shipping to addresses in the Lower 48 States.
All-in-One Grinding and Polishing Station
The Bevel Star System (#0140) is a complete beveling station designed for grinding and polishing of straight edges and outside curves. With it you can create, repair, and hand bevel glass projects yourself simply and easily.
Check out these features.
strong ¼ HP Variable Speed motor, adjustable from 0 to 2500 RPM
direct water hook-up with an adjustable waterspout to direct water flow to any area of the grinding disc
splash guard controls water over-spray
flush mount disc system allows use of the entire 6" diamond grinding surface and convenient quick change between grinding and polishing steps
includes 120 grit Diamond Genesis Pad for roughing, 400 grit Diamond Genesis pad for smoothing, Diamond resin pad for pre-polish and optical quality polyester felt polishing pad with ½ lb. of cerium oxide polishing compound.
One year warranty