Gemini Saw Manufacturers the Taurus and Titan Series of Ring Saws
Sunshine Offers only Genuine Gemini Saw Blades and Replacement Parts
Be assured that you are buying only genuine parts made by Gemini Saw for their Taurus and Titan Rings Saws. Unlike other sources on the web, Sunshine Glassworks sells only Genuine Gemini.
=NOTE = Replacement Parts for the Titan Saw are no longer available from the manufacturer. Our stock is limited, so order NOW =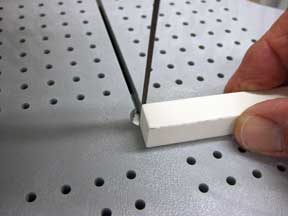 DIAMOND DRESSING STONE
Rejuvenate worn diamond blades by cutting a sliver off of this dressing stone. The stone will sharpen the diamonds and will remove build up from the blade resulting in a restoration of cutting action.
Stone is ½x½x6 inches long. Good for many, many blade treatments.
Also works to refresh diamond grinding bits. $11.99
=Unavailable at this time=
Order #03625