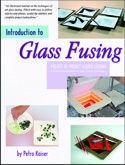 INTRODUCTION TO GLASS FUSING
by Petra Kaiser is a modern-day primer on the basic skills and techniques of fusing. This book is geared toward the novice and assumes you know little about the craft. Filled with lots of step-by-step photos, useful tip sidebars, and complete project instructions. You will learn terminology as well as all the basic skills that are the building blocks of the art. From tools and material descriptions to glass cutting and shaping, to more complicated procedures such as mold making and kiln operation, everything is covered. 80 pages; 175 color photos.
Order # 1353
$23.95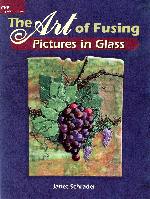 THE ART OF FUSING
Pictures in Glass
By Janet Schrader is likely one of the finest books that will push your imagination in fused glass. Nothing presented in this book is difficult. The beauty of the book is that it brings a variety of easy to accomplish effects together into one composition. Detailed photos and step by step instruction will get you great results!
Order # 13073
$17.95