BRUSHES FOR TRADITIONAL PAINTING ON GLASS
Painting on glass can add depth and realism that may not necessarily be attainable by glass and lead lines alone. Glass stainers, enamels and silver stains all can lend details and three dimensionality to your glass that otherwise may look flat, lifeless and two dimensional.
BRUSHES come in four categories: , used to apply defining lines, bolder strokes and line detail to apply paint over large areas, the first step in matting to create an even matt used to remove paint to produce highlights and detail.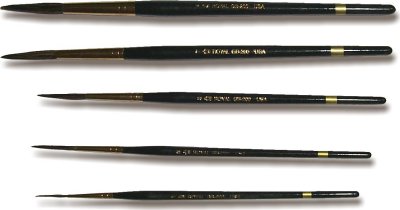 Peter McGrain Tracing Brush Set (# RBR PM1) have been specially designed and tested by Peter McGrain to give great control without a huge cash outlay. The five most popular sizes for glass painting are included in this set. They are ideal for accomplishing traditional tracing techniques when applying glass stainers colors to glass. Set has sizes #1, 3, 5, 7 and 9 brushes. MOST HIGHLY RECOMMENDED
$39.99
TRADITIONAL TRACING BRUSHES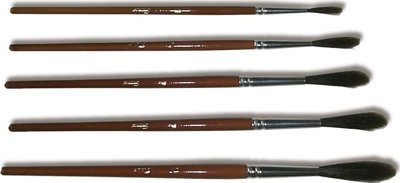 TRACING BRUSHES are finest quality Long Liner Taklon or Pony Hair
Long Liner Taklon Tracing Brushes (#R BR891)
size 1
$3.79
---
Long Liner Taklon Tracing Brushes (#R BR894)
size 4
$4.19
---
Pony Hair Tracing Brushes (#R BR304) size 4
$3.99
---
Pony Hair Tracing Brushes (#R BR306)
size 6
$4.39
---
Pony Hair Tracing Brushes(#R BR308)
size 8
$4.89
Use Applicator brushes for applying paint over large areas. Most useful for applying a coat of paint as first step in matting. Good applicator brushes are soft and broad in order to evenly distribute the paint.

#R BR A2 Two inch wide applicator brush
$3.39

---

#R BR A3 Three inch wide applicator brush (as shown above)
$4.59

---

#R BR 1832 Professional Camel Hair 1-1/2in Wide Matting Brush
$36.50
PETER MCGRAIN SYMPHONY BADGER BLENDER
Peter McGrain has found the perfect Blending Brush. The Symphony Badger Blender is not as floppy as our Royal Series below and is much more affordable than the European badger blenders. The added springiness gives you more control when blending mats or stippling. The Symphony Blender is 3" wide.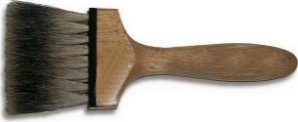 #R BR PM3 Three inch Peter McGrain Symphony Badger Blender brush =Unavailable at this time=
$49.98
ROYAL BADGER BLENDING BRUSHES
They are a fine quality brush with all of the preferred qualities. Soft, springy bristles that don't attract or hold paint. Plus, these are actually affordable. The perfect alternative to pricey French or English Badger Blenders.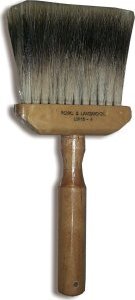 Three sizes::
#R BR BB2 Two inch wide Badger Blender brush
$25.59
#R BR BB3 Three inch wide Badger Blender brush
$39.39
#R BR BB4 Four inch wide Badger Blender brush
$69.99
GERMAN, ENGLISH AND FRENCH BADGER BLENDING BRUSHES
These are the top of the line brushes used in professional studios around the world. All are finest quality, hand made brushes using genuine badger hair. In order, from left to right: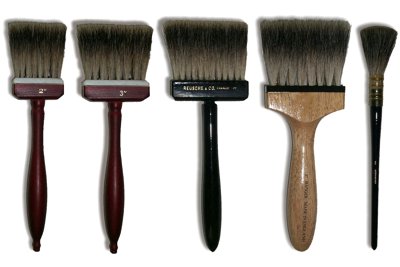 #R BR312 Two inch Flat German Badger Blender, == Unavailable at this time ==
#R BR313 Three inch Flat German Badger Blender == Unavailable at this time ==
#R BR313S Three inch French Student Badger Blender, an economical, traditional brush == Unavailable at this time ==
#R BR313A Three inch English Badger Blender a superior quality brush with a comfortable handle. The holy grail of badger blenders.
$338.00 =Special Order Only, Allow 2 weeks for delivery
to addresses in lower 48 states
#R BR326 German Round Badger Blender, size 6, approx 3/4 to 1' around at tip.
$46.00
STIPPLING OR SCRUB BRUSHES
Our assortment includes 12 brushes of superior quality white bristle brushes, priced right! Package includes a variety of flat and round scrubs. You should find a scrub for every application in this package, but feel free to shape these brushes with scissors to fit your needs.
#R BR PM2 Set of 12 Brushes $19.98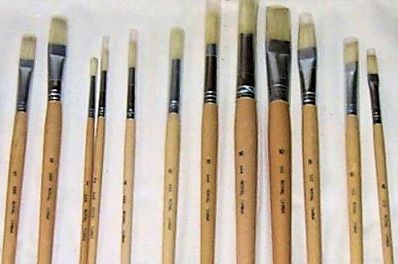 back to top
PROFESSIONAL QUALITY EUROPEAN IMPORT TRADITIONAL STIPPLING
OR SCRUB BRUSHES
FITCH DEERFOOT STIPPLER (#R BR336) is used to remove matting that has been prepared with alcohol or turpentine. Use it to blend, feather and lighten your matting which adds details and highlights to your design. This is an especially soft brush used to remove delicate matting such as that created using alcohol or turpentine
$50.00

ENGLISH STIPPLER BRUSH (#R BR32A) While the stippler can be used to remove matting, it is most often used to apply paint. The brush is dipped into paint and held perpendicular to your work. Rapid up and down motions will create stipples or dots of paint which can be used for shading, to intensify shadows, and to add texture. (size 4)
$66.00
3-1/4" PALETTE KNIFE (#R PK) is the preferred method for mixing paints, gum arabic and the painting medium.
$6.99