02/02/12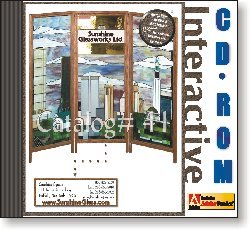 Our Interactive CD-ROM Catalog is filled with more than just products we sell.
We have hundreds of patterns, users manuals for many of the tools and kilns we sell, fusing instructions and firing schedules and much, much more.
Sunshine Glassworks stocks over 7000 items including over 1400 colors and styles of glass. Only about 10-15% of our product line is shown on line, so please take a moment to sign up for your copy. Click on the button below to sign up quickly and easily.


Your information is kept secure and is never shared with others. We won't jam up your e-mail box (we generally send no more than two e-mails per month).
You can update your information or e-mail preferences by returning to this page and clicking on the button above or follow the links at the bottom of every e-mail from Sunshine.
Have a Stained Glass Business?
Click here to find out how we qualify Wholesale Accounts