OMNI TURBO BLADES
The latest and greatest blade for the Omni Saws. Lasts much longer and cuts faster than the first generation blades (see below)
ALL BLADES ARE SOLD IN PACKS OF THREE BLADES, ALL THE SAME STYLE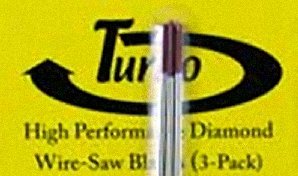 Ultra Power, Super Power and Power Fine
Blade Cross Section


Slitting Blade Cross Section
OMNI TURBO BLADE STANDARD These are the best choice for all around work. Cuts quickly and cleanly. 120 grit diamonds coat the round cross section for cutting in all directions. These are the blades that are supplied with the Omni 2+ Saws Order #03612. $24.99 per pack of 3
OMNI TURBO BLADE FINE - are made for more delicate work. The finer 200 grit diamonds are less likely to chip. Recommended for cutting dichroic glass. Round cross section for cutting in all directions. Order #03611. $24.99 per pack of 3
OMNI TURBO BLADE SUPER POWER cut quickly and aggressively. The coarse 60 grit may leave a rougher edge on your glass. Order #03613. $25.99 per pack of 3
OMNI TURBO SLITTING BLADES work more like a band saw blade. The narrow oval cross section removes a narrower strip of glass as it cuts, which allows it to cut faster. This blade is not as omni-directional as the round cross section blades above, but is handy for faster cutting or for applications where it is important to remove the least amount of material. Order #03615. $24.99 per pack of 3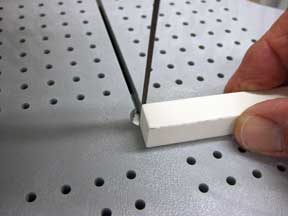 DIAMOND DRESSING STONE
Rejuvenate worn diamond blades by cutting a sliver off of this dressing stone. The stone will sharpen the diamonds and will remove build up from the blade resulting in a restoration of cutting action.
Stone is ½x½x6 inches long. Good for many, many blade treatments.
Also works to refresh diamond grinding bits. $11.99
=Unavailable at this time=
Order #03625
Gryphon has made a few versions of the Omni Saw.
These parts (except where noted) will fit all versions.
NOTE: In illustrations for Gryphon parts, the parts in RED are the parts in the kits shown. Other parts that are in the illustrations but are not shown in red, are not included.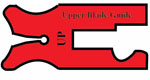 OMNI BLADE GUIDE BLOCKS
Other than blades on your Omni Saw, the Blade Guide is about the only thing that wears our and requires replacement on occasion. Sold as a set of two guide blocks, one upper, one lower.
$9.49 Order #0362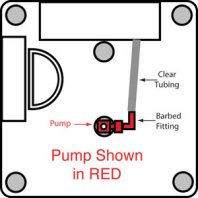 OMNI WATER PUMP
Major cause of water pump failure is forgetting to clean the water reservoir. If you keep it clean you won't likely need a replacement pump, but if you do, we have it for you.

$14.99 Order #03622