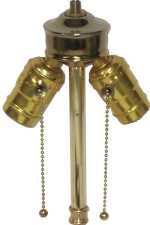 Optional Two Light Cluster
BASES ARE FURNISHED IN HAND RUBBED ANTIQUE BRONZE FINISH
Castings are a zinc alloy with steel and brass columns and fittings. Bases are assembled and wired, ready to go right out of the box (two light cluster option will need you to screw the fully wired cluster to the base)
ALL BASES ARE AVAILABLE TWO WAYS:
With 8" harp and three way socket (as shown in photos below)
With 8½" tall two light cluster (pictured at left)
Dimensions given are for the height of the base to the base of the socket. Add 8" to this height for the total height with harp, add 8½" for the total height if ordered with the two light cluster. We recommend the stiff and sturdy two light cluster for larger (20" or greater diameter) lamp shades.